Coronavirus pandemic: 'Covid warrior' job for cured patients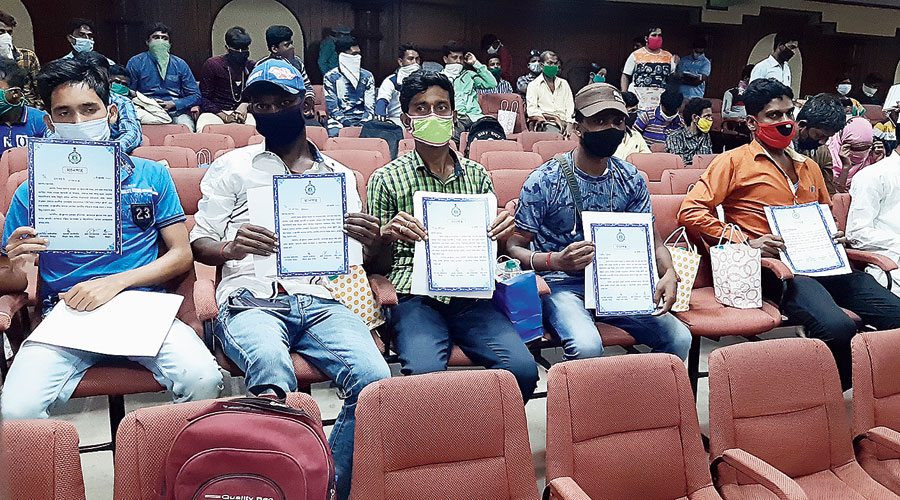 Snehamoy Chakraborty, Alamgir Hossain   |   Bolpur(Birbhum)   |   Published 13.07.20, 02:16 AM
The Bengal government's drive to enlist cured patients as "Covid warriors" and pay remuneration has come as a blessing for some of the migrant workers who were forced to return jobless to their homes during the lockdown.
Dulal Sheikh, 38, a migrant worker from Murshidabad's Khargram who enlisted in the programme, said: "I was a construction worker in Maharashtra and earned Rs 15,000 a month. I can earn the same amount here (as a Covid warrior), and it is a prestigious job," said Dulal.
Ramen Bayen, a mason from Birbhum's Mallarpur, said he would not return to Mumbai as long as he had this job. "With Rs 500 a day, I can run my home," Bayen said.
In districts such as Murshidabad, Birbhum, East Burdwan and Malda, a large number of people who were infected with Covid-19 were migrant workers who had returned and are now in need of work.
Sources in Murshidabad said 60 migrant labourers who recovered have joined three hospitals in Calcutta, Malda and Murshidabad.
In line with a decision taken by chief minister Mamata Banerjee late last month, district magistrates are drafting lists of the "Covid warriors". The phrase has been expanded to include those who have recovered from the infection and are willing to work in Covid hospitals in the state.
Mamata had declared the plan at state secretariat Nabanna on June 29. "We will set up a Covid Warriors' Club with people who fought and recovered from the infection. The warriors will help patients in hospitals," she had said on June 29. "They will talk to the patients, serve them food."
Sources said the government felt that the plan would address the livelihood problems of some of the migrants.
A senior state government official said that under government guidelines, a Covid warrior would get Rs 500 a day, which means they can earn up to Rs 15,000 per month. "There is no question of losing jobs if anyone joins a hospital in such a situation," he said.
"We are getting a good response from districts where volunteers are mainly migrant workers. There will be no scarcity of workers even if half of these cured Covid-19 patients join. So far, we have received reports that around 300 people wish to work at hospitals," said an official.
The Birbhum administration, which held a meeting of its Covid Warriors' Club on Saturday at district headquarters Suri, pitched the idea to prospective "warriors". Sources said 65 recovered patients, mostly migrant workers, expressed interest.
"Many want to work in hospitals, boost the morale of Covid patients and frontline workers, and help in food and medicine distribution. We will send them to work in Calcutta hospitals," said Moumita Godara Basu, Birbhum's district magistrate.
Health officials said that the Covid warriors would be given protective gear.
Several hospitals in Bengal need non-medical staff at a time the number of Covid-19 patients is rising.
"With the rise in Covid cases, it is a challenge for the government to get non-medical staff to volunteer or work at Covid hospitals," said a health official in Burdwan.